Pelo is a family company that has over a hundred years of experience in manufacturing sheath and nappa leather.
The company is based in Central Ostrobothnia, in the west of Finland.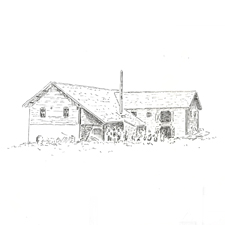 ---
In 1987, brothers Axel, Hugo, and Fritiof Gustafsson founded a tannery that carried their name on the shores of the River Perhonjoki.
The small tannery produced vegetable tanned leather for local craftspeople. The tanning process could take up to six months.
Production was modernised through industrialisation, and nappa leather was added to the product range.
From the 1990s onwards, the company operated under the name of Geson Ab.
---
---
As the generations changed, Geson Ab was acquired by Kokkolan Nahka, another local family company.
Brothers Pasi and Juha Örnberg continued the operations respecting the old traditions.
The tannery was renamed after its location along the Pelorannantie Road.
---
---
Today Pelo is the oldest tannery in Finland that is still in operation. At the same time, it has grown into the leading manufacturer of sheath leather in the Nordic countries.
Pelo is known as a reliable partner that cherishes long customer relationships.
"Together with our retailer network we ensure easy and excellent services for all of our customers."
---